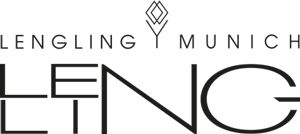 "We are moved by feelings. They define the precious moments in our lives. To capture these feelings and make them everlasting in authentic fragrances is and will always be our passion." (Ursula und Christian Lengling)
The longing for balance in a life full of contrasts
LENGLING
MUNICH creates modern, sensual and authentic fragrances that perfectly capture the spirit of the times. The founders were thereby inspired by their own lives and by the numerous contrasts and contradictions they encounter every day. Full of possibilities, the world appears to be colourful and exciting, but also more and more complex.
The longing for balance becomes greater than ever. Because only in finding the ideal balance we can achieve a feeling of perfection. This is not only true of life but should also be true of the fragrances by
LENGLING
MUNICH. That's why
LENGLING
embodies both the founders' name and their concept.
Each fragrance is characterized by the two contrasting notes of LENG and LING. Exciting and remarkably harmonious they play off each other as the perfume progresses, merging on the skin to create balanced perfection on a higher plane.