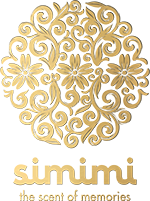 SIMIMI
Mireia Navarro, endless dreamer but she always knew what she wanted. With only 3 years-old, she used to have fun mixing perfumes, soaps and creams at home. Her entrepreneurship spirit, a family legacy, took her to study Business at Esade Business School in Barcelona. The first step towards her dream. On the year of her Master's Degree, she focused on Entrepreneurship at the prestigious Babson College, Boston, Massachusetts. Her next step was to apply for the Master's Degree in Fashion and Beauty Communication at Carlos III de Madrid university, which allowed her to go in depth into the perfumery world and to work in the cosmetic and perfume marketing department at Chanel.
For the founder, this house is the result of her dreams, learning, work, travels, confidence and, above all, love, much love. Love in the idea. Love in the production. Love in the people supporting her. Love in the design and the image. Love for sacrifice and effort. Love for people and the environment. Love for details. Love 360ª. This is why Simimi has no limits, because love is global, plural and ethereal. We cannot lock it up or ban. Love does not understand about ages, origins nor cultures. Nor religion or gender. It is, like Simimi, timeless and universal.
Willing to be The memories collection of moments of love, Simimi creates a collection for every single existing type of love.
Behind each perfume, the story of the woman who gives it her name. All chosen for being the reflection of the shades of love.