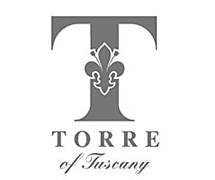 Torre of Tuscany - Forte dei Marmi
Tuscany is a land of ancient perfumes and modern fragrances. Here Torre created this precious collection of fragrances. Dedicated to those who recognize the value of uniqueness and quality.

Torre research the aromatic suggestions of Tuscan lands transforming them into high quality perfumes. Drawing on the wealth of Tuscan knowledge and craftsmanship to make modern fragrances that embody the contemporary spirit and the aspiration for excellence. Olfactory gems, heirs of tradition, created to write new pages of taste and pleasure. The philosophy behind the collection of Torre of Tuscany perfumes is the expression of every great Italian creation. A philosophy that favors craftsmanship and individual sensitivity, attention to detail, balance and design.

The choices of Torre are always marked by a strong imprint of "Italianism". An invitation to exclusivity but also awareness. Because purchasing a perfume or a home fragrance is an act of self-love, a true gesture of art, a pleasurable moment. A joy to enlighten the spirit and the senses.

Torre of Tuscany fragrances were made in collaboration with perfumers Maria Candida Gentile and Arturetto Landi.