About Etat Libre d'Orange

Born in 2006, Etat Libre d'Orange is an alternative fragrance house concerned about words, high-quality ingredients and formulas, and perfumers' free creativity.
Their willingly subversive philosophy allows world-renowned and talented perfumers to give free rein to their skill — beyond industrial restrictions and commercial regulations.
Guided by iconoclastic and sensual themes, their perfumers wander along the unexplored olfactory paths and compose fragrances according to their feelings.
In a constant care for quality, originality and freedom, Etat Libre d'Orange proposes more than 25 original fragrances.fragrance base. The earliest edition was created in 2006 and the newest is from 2012. Etat Libre d`Orange fragrances were made in collaboration with perfumers Antoine Maisondieu, Christine Nagel, Antoine Lie, Mathilde Bijaoui, Shyamala Maisondieu, Nathalie Feisthauer, Ralf Schwieger and Cecile Matton.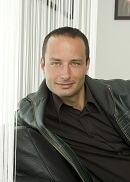 Etienne de Swardt - The man is a developer and a seducer. Etienne likes to surprise, innovate and venture off the beaten track. His first creation launched in 2000, was already quite a sensation. Some six years later, his leitmotiv is still the same: spring off emotions to escape daily inertia. So much the better if on the way he shocks one or two conventional minds… He is talented in bringing people together and strives to bring out the benefit in each person.
Etat Libre d`Orange's
Declaration of Independence: